The COVID-19 pandemic has triggered changes in how societies operate. In February 2020, no one would have imagined that we could face such a situation, where entire white-collar workforce in many countries would work solely from home. Due to such a situation, many countries including Thailand have set up restrictive measures on social contacts, resulting in restriction of business operation in many ways. Then, the term "new normal," which means new ways of living, working and interacting with other people, has been increasingly used to describe that the situation will not improve until some definitive cures are found or entire population of the world are vaccinated for COVID-19. Sadly, we may have to live in this "new normal" world for a very long time.
So, how has this "new normal" affected the way we control pollution? We all know that since the beginning of COVID-19 pandemic, more people have stayed at home and used online shopping. Food delivery, internet banking and parcel services have seen tremendous growth. Government of Thailand has conducted a survey on the current status of waste generation under such a "new normal" situation and released a report on the study results this month.
Director General of the Pollution Control Department (PCD), Ministry of Natural Resources and Environment, made an announcement on current waste situation in Thailand early this month reporting that approximately 2 million tons of plastic waste were generated annually (90 gram/person/day) before the outbreak of COVID-19. Even though very few tourists have entered the country after COVID-19 pandemic, the rate of plastic waste generated has not decreased. Data for the year 2020-2021 has shown that, in average, Thai people are using even more plastic in the COVID-19 situation. This has led to a 45% increase in plastic waste in this year (139 gram/person/day) and the trend is still expected to continue.
During 2022, import of plastic scrap will be reduced by approximately 20% or about 200,000 tons, and it is expected that import of plastic scrap will be completely banned from January 1, 2026 onwards. The government still needs to discuss with businesses who import plastic scrap as well. This is in line with Thailand plastic waste management roadmap 2018-2030, with the target 1 being to stop using 4 types of plastic waste in 2022, namely thin plastic bags with handles, foamed plastic boxes, plastic cups, and plastic straws but under the COVID-19 situation, it has become challenging to achieve this goal. The target 2 is to recycle 50% (or approximately 700,000 tons) of the following 7 types of plastic waste by 2022: plastic bags, food trays/boxes, bottle caps, plastic spoons/forks/knives, film packaging, plastic bottles, thick plastic cups, which are expected to be 100% recyclable by 2030.
Survey on face mask waste conducted by PCD in cooperation with Provincial Natural Resources Offices and local governments in 2,690 towns from June 1 to December 31, 2020, found that 17.89 tons of face mask waste were generated in the survey period. About 25% of the discarded face masks were landfilled as general waste, 9% were burned in incinerators as infected waste, 8% were disposed of by private contractor and 51% were gathered and sent to Provincial Administrative Organizations. It is predicted that in 2021 there will be more face mask waste. It is found that people across the country are currently using 42.9 million pieces of paper mask per day (35%) and 23.1 million pieces of fabric masks per day (65%).
"The survey has shown that COVID-19 situation has changed the ways we travel, work, and use plastic packaging. We can run campaigns not only to stop using plastic, but also to encourage utilization of used plastic items as much as possible and to employ disposal methods that do not cause pollution." Said Director General of the PCD.
Bangkok metropolitan is currently considered as the center of COVID-19 epidemic of Thailand at the moment. Information from the office of solid waste and waste management of the bureau of environment, Bangkok Metropolitan Administration (BMA) showed that total amount of waste generated in Bangkok has decreased from the highest amount of 10,700 tons per day in 2018 to 10,500 tons per day in 2019, and 9,500 tons per day in 2020. Furthermore, in the first two quarters of 2021, the rate of waste generated has decreased to 8,800 tons per day. However, the proportion of plastic waste during COVID-19 epidemic has increased from normal conditions. In particular, the proportion of plastic waste in April 2021 was higher compared to that in March 2021 by more than 7.61%.
Currently, the BMA has three waste disposal facilities, namely On Nut, which receives approximately 3,100 tons of waste per day, Nong Khaem, which receives approximately 3,600 tons of waste per day, and Sai Mai, which receives approximately 2,000 tons of waste per day. Currently over 80% of waste produced will be sent to landfill; however, there is already a plan on reducing waste needed to be landfilled to 20% by 2027 by means of new technology.
Infectious waste, especially that is generated during the COVID-19 period, contains wasted face masks that are discharged and collected from hospitals and hospitel (i.e., hotels which are used temporarily as hospitals in the COVID-19 pandemic situation) that treat infected patients as temporary hospitals. Governmental detention facilities and alternative hotels for detainees add almost 20 tons of waste per day.
Public relations office of BMA has started a campaign on proper segregation of used masks. The campaign asks people to dispose of used masks properly without mixing them with general household waste into dedicated bin. BMA has also specified the locations of the 1,000 face mask bins (orange bins) across the country, such as 50 district offices of BMA, schools under BMA, Public Health Center, Bangkok Sports Center, hospitals affiliated with BMA, Bangkok Youth Center, Bangkok City Hall, fire station, and public parks. Discarded face masks collected from BMA's garbage collection trucks and the dedicated bins (orange bins) will be transported to infectious waste incinerators at BMA waste disposal center.
Director General of the Department of Health disclosed that the amount of infectious waste has increased by some 22.9 % or 28.4 tons/day during COVID-19 epidemic situation, as estimated for the first four months of 2021. It is also estimated that hospitals, temporary hospitals and state quarantine facilities generate infectious waste of 2.85 kg/bed/day, 1.82 kg/bed/day and 1.32 kg/person/day respectively, whereas testing laboratories generate 0.05 kg/sample.
Department of Health is currently considering a proposal to support the disposal of waste infected with COVID-19, based on the three conditions as follows:
Normal condition: there are 14 main infectious waste disposal units with a capacity of 273.5 tons per day, and 27 onsite treatment sites with total capacity of 27 tons per day.
Moderate condition: Resources that have the same potential as an infectious waste incinerator are utilized using normal waste incinerators with a capacity of 50 tons per day and a cement kiln.
Severe condition: limit infectious waste by sterilization and burn them in a general waste incinerator.
Department of Health is also drafting a guideline on handling of infectious waste in households or communities in case that there are infected or high-risk individuals in a household. Director General of the Department of Health has suggested that if an area in which the waste collection system is infected is not accessible, following methods should be used:
Collect and contain infectious waste by putting the waste in doubled garbage bags. The inner bag containing infectious waste should have been disinfected using disinfectant or bleach. Then tie the mouth of the bag tightly and then spray disinfectant to the bag (Sodium hypochlorite 5,000 ppm or 70% alcohol) at the mouth of the bag and overlap with another garbage bag, then tie the outer bag tightly and spray it with disinfectant again.
Move infectious waste to a designated collection point from which the local government will collect infectious waste for proper disposal.
After handling infectious waste, immediately wash your hands thoroughly with soap and water or alcohol gel.
For the general public, in case of disposing face mark, it should be removed from the back. Then fold or roll the mask with the surface touching your face being inside until it gets small. Then tie it tightly with its strap. If there is a specific point for discarding masks, the mask should be disposed of in the bin or container. If there is not a specific point for disposing face masks, put the folded face masks in a plastic bag and tie or close the bag tightly before disposing it in a general bin with a tight lid. Washing hands thoroughly after every disposal is a must.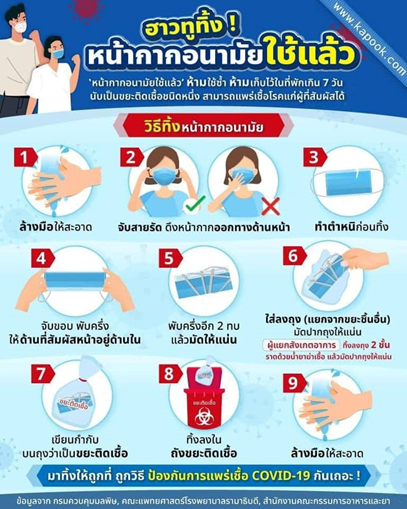 Infographic on Guideline on Face Mask Disposal according to Pollution Control Department