In September 2023, Department of Environment and Natural Resources (DENR) Undersecretary for Environment and Integrated Science Carlos Primo David stated in an interview at the sidelines of the Mining Philippines 2023 International Conference and Exhibition organized by the Chamber of Mines of the Philippines (COMP) that DENR plans on tapping into Philippines' mineral resources to bolster the country's renewable energy transition. He also said that government-led exploration of critical minerals for clean energy technology will provide the opportunity to encourage private sectors to invest in mining, boosting the mining sector of the Philippines1. In line with mineral exploration, he also added that having additional nickel processing plants can maximize the usage of the Philippines' nickel resources2. Nickel is one of the minerals used for manufacturing electric vehicles, wind turbines, and solar PVs3. Great opportunities for the nickel mining industry are foreseen in the Philippines since it ranks second in the ASEAN region and fourth globally in 2023 in terms of nickel reserves, with Indonesia taking the top place globally4. Currently, the Philippines has two nickel processing plants both operated by Nickel Asia Corporation. Together, the two processing plants have a capacity of 60,000 metric tons of nickel per year5.
Overview of Philippines' Mining Industry
In the 2022 data released by the Mines and Geosciences Bureau (MGB), the Philippines' metallic mineral production amounted to approximately PHP 238.05 billion (~USD 4.30 billion), with gold (PHP 90.95 billion), nickel (PHP 117.13 billion), and copper (PHP 25.67 billion) being the primary mineral commodities. The other metallic mineral commodities are silver, scandium oxalate, chromite, and iron ore, constituting the remaining PHP 4.3 billion6 (see Figure 1). As of August 2023, the mining industry constitutes only 0.78% of the Philippines' total GDP7. Integrating mining into the country's renewable energy transition presents an opportunity to supplement the mining sector's overall GDP share, potentially fostering economic growth and sustainability.
The Philippines' total land area is 30 million hectares, and 9 million hectares is deemed to have a high mineral potential by MGB. As of June 2023, only 2.6% or 779,446.41 hectares are covered by mining tenements8. DENR Undersecretary for Environment and Integrated Science Carlos Primo David stated in the interview that the government has a budget of PHP 60 million for minerals exploration1,2, and this is equally divided among the 16 regions of the country1. Due to budget constraints, DENR will focus its efforts for critical minerals, such as nickel and chromium1, due to the increasing global demand of critical minerals for EV batteries9. The main goal for the set budget is to increase the number of identified mineralized areas to provide valuable data to potential investors and stakeholders1. The identification of additional areas with extractable minerals has the potential to also boost the country's economy through increased exports. In 2022, the Philippines recorded mineral exports totaling approximately USD 7.53 billion, with copper, gold, and nickel ranking as the nation's primary mineral exports. Notably, a significant portion of the Philippines' mineral exports is directed to key markets, including Japan, Australia, Canada, and China4.

Figure 1. Philippines' Metallic Mineral Production in PHP Billion6. It can be observed that nickel contributes the most in the Philippines' metallic mineral production for 2022.
Overview of Philippines' Current Progress in Renewable Energy Transition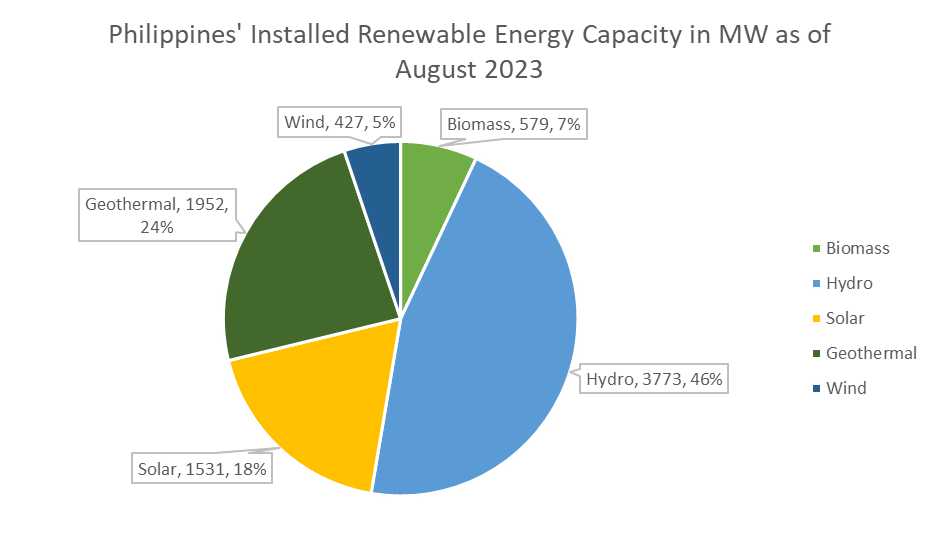 Figure 2. Philippines' Installed Renewable Energy Capacity in MW as of August 202310. Hydroelectric power has the highest share of installed capacity among the renewable energy sources.
As of August 31, 2023, the Department of Energy (DOE) reports that the Philippines has achieved a total installed capacity of 8,262 MW in renewable energy. Solar power plants contribute 1,531 MW, while wind power accounts for 427 MW in the country's total renewable energy sources. Notably, hydroelectric power emerges as the leading renewable energy source in the Philippines, with a substantial installed capacity of 3,773 MW, thereby playing a pivotal role in the country's overall energy mix10 (see Figure 2). Although, the Philippines mostly rely on fossil fuels for energy as reflected in the country's total installed energy capacity (see Figures 3 and 4).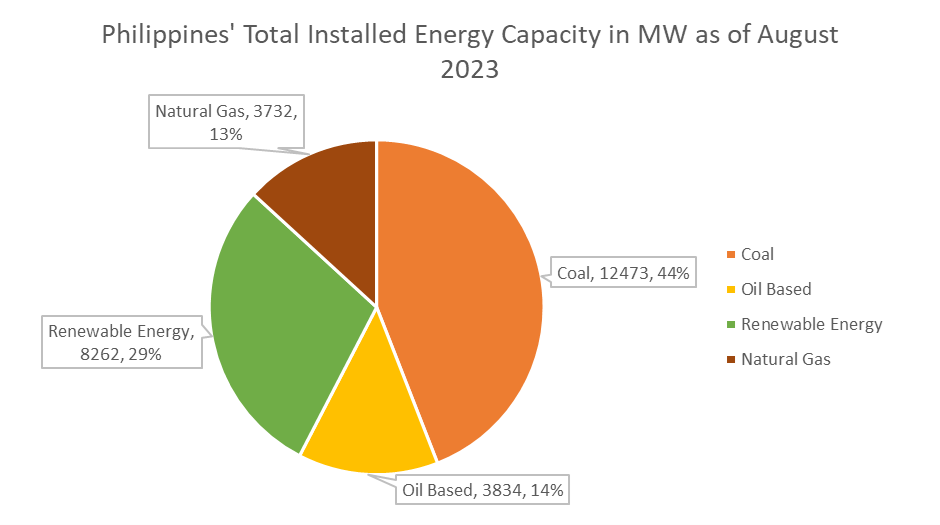 Figure 3. Philippines' Total Installed Energy Capacity in MW as of August 202310. The Philippines currently relies on fossil fuels for a significant percentage of the country's energy.
From 2010 to 2023, the installed capacity of renewable energy in the Philippines has been steadily increasing, but coal has a steeper rate of increase (see Figure 4). The National Renewable Energy Program (NREP) of DOE aims to increase the country's renewable energy capacity to 15,304 MW by 203011, providing more incentive in exploring areas with high mineral concentrations.
Negative Reception of Mining in the Philippines
While mining has the potential to enhance the Philippines' economy, it has faced significant opposition from local communities and environmental groups. An illustrative case involves a company engaging in nickel mining on Sibuyan Island. Local residents have taken a stand by blocking the paths of trucks transporting nickel, citing concerns that the company's operations pose a threat to the island's ecosystem and the livelihoods of the community. Additionally, the company lacks the required permits to operate on the island12. Another example is in Brooke's Point, Palawan where indigenous communities have expressed their concerns about a company conducting nickel extraction within their ancestral domain. They apprehensively highlighted environmental issues such as deforestation, threats to their traditional lobster and shellfish harvest sites, harm to farms and coconut plantations, disruption of habitats for medicinal plants, and pollution of their watershed due to the mining operations. They have stated their intention to contact various government authorities and are considering pursuing legal action in the matter13.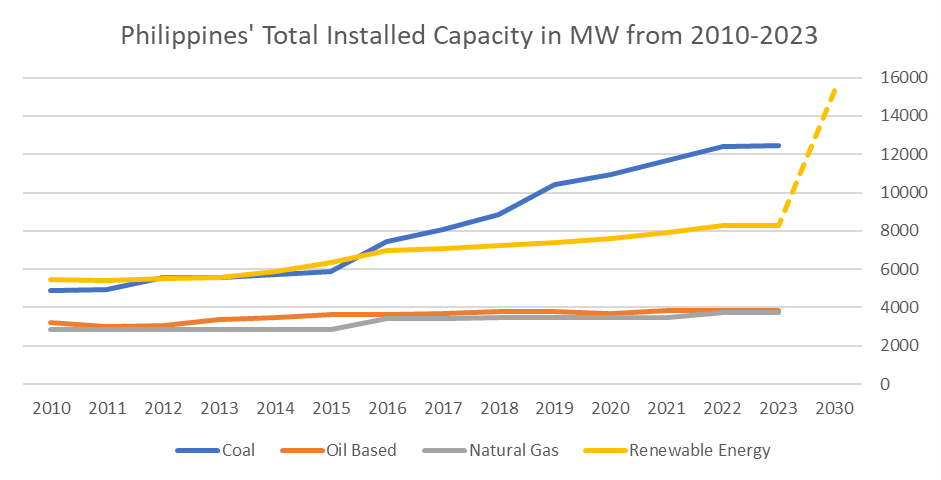 Figure 4. Philippines' Total Installed Capacity in MW from 2010-202311. The aim of DOE's NREP aim to increase the country's renewable energy capacity to 15,304 MW by 2030 is denoted by the dotted line. Throughout the years, the Philippines has been reliant on fossil fuels as shown in this graph, but the country is making efforts in increasing its renewable energy sources.
Benefits Mining Brings to the Local Communities
In 2017, a mining operation in Claver, Surigao del Norte was closed down because it was accused of rendering the rivers non-potable, with nickel laterite causing the waters to become murky and uninhabitable for the freshwater mollusks that were once a source of sustenance for the residents. However, the former miners, who belonged to a local tribe in the region, faced challenges finding comparable employment opportunities. They turned to selling handwoven rattan baskets and orchids by the roadsides, and as a consequence, their children ceased attending school. The mining company also provided to the host rural communities medical services, student scholarships, and funding for infrastructures, which were halted due to its suspension14.
As illustrated from the case above, mining has both negative and positive effects to its host communities. As of August 2023, data from MGB states that mining has provided employment to about 228,843 people. An estimate of PHP 31.68 billion (~USD 0.57 billion) was allocated by mining companies for rural communities' development and management4. Examples of programs done by mining companies are construction of schools and health facilities, repair of water systems, provision of school supplies and equipment, scholarships, feeding programs, financial support for locals' livelihoods and religious institutions and activities, emergency relief assistance, and environmental seminars15.
Mining companies have also allocated approximately PHP 386.32 billion (~USD 6.97 billion) and PHP 6.57 billion (~USD 0.12 billion) for environmental protection and rehabilitation, respectively, as of June 2023. Furthermore, during the same period, about 48.96 million seedlings were planted across approximately 40,546.32 hectares of previously mined and other areas. Around 44.09 million of these seedlings have thrived, resulting in an 89.89% survival rate4.
Mining has inherent challenges and potential drawbacks to the environment and to the affected rural communities and indigenous people, but successful navigation of these challenges, such as obtaining necessary permits and community consent, is crucial for the sector's positive development. Comprehensive environmental and rehabilitation plans are also essential in mitigating the environmental impact caused by extractive operations. Looking ahead, the coexistence of mining and renewable energy could play a synergistic role in the future development of the Philippine economy.
References
Mayuga, J. L. DENR outlines new direction in exploration of energy transition minerals for RE market. BusinessMirror https://businessmirror.com.ph/2023/09/21/denr-outlines-new-direction-in-exploration-of-energy-transition-minerals-for-re-market/ (2023).
Gonzales, A. L. DENR cites need to establish more mineral processing plants. Philippine News Agency https://www.pna.gov.ph/articles/1210152 (2023).
International Energy Agency (IEA). The Role of Critical World Energy Outlook Special Report Minerals in Clean Energy Transitions. https://www.iea.org/reports/the-role-of-critical-minerals-in-clean-energy-transitions (2021).
Dela Cruz, E. G. Philippines – Mining by the numbers, 2023. S&P Global Market Intelligence https://www.spglobal.com/marketintelligence/en/news-insights/research/philippines-mining-by-the-numbers-2023 (2023).
Nickel Asia Corporation. Nickel Asia: About Us. Nickel Asia Corporation https://nickelasia.com/about-us.
Mines and Geosciences Bureau. Philippines Metallic Mineral Production: CY 2022 vs CY 2021. Mines and Geosciences Bureau https://mgb.gov.ph/images/Mineral_Statistics/2022/PHILIPPINES-METALLIC-MINERAL-PRODUCTION-2022-VS-2021_15_MARCH_2023.pdf (2023).
Mines and Geosciences Bureau. Mining Industry Statistics CY 2020 to S1-2023. Mines and Geosciences Bureau https://mgb.gov.ph/attachments/article/162/MIS-Qtrly-2020-to-S1-2023-for-UPLOAD-as-of-24-Aug-2023.pdf (2023).
Mines and Geosciences Bureau. Mineral Industry at a Glance. https://mgb.gov.ph/images/Mineral_Statistics/MINERALS-INDUSTRY-AT-A-GLANCE-Updated-02-Aug-2023.pdf (2023).
International Energy Agency. Trends in batteries. Global EV Outlook 2023 https://www.iea.org/reports/global-ev-outlook-2023/trends-in-batteries (2023).
Department of Energy. List of Existing Power Plants. Department of Energy (2023).
Department of Energy. National Renewable Energy Program. Department of Energy https://www.doe.gov.ph/national-renewable-energy-program.
Cabico, G. K. DENR engaging with various stakeholders on mining concerns. PhilStar Global https://www.philstar.com/headlines/climate-and-environment/2023/02/02/2242074/denr-engaging-various-stakeholders-mining-concerns (2023).
Cabico, G. K. For Palawan IPs, nickel mining is a threat to the community's survival. PhilStar Global https://www.philstar.com/headlines/2022/08/29/2205905/palawan-ips-nickel-mining-threat-communitys-survival (2022).
Almendral, A. Philippines Moves to Shut Mines Accused of Polluting. The New York Times https://www.nytimes.com/2017/04/27/world/asia/philippines-mining-environment.html (2017).
Ragos, A. M. Mining Communities and Social Development: Assessing the Philippine Social Development and Management Program. BantayKita https://www.bantaykita.ph/uploads/2/9/9/2/29922649/mining_communities_and_social_development.pdf (2016).